This is the fourth post in a series to mark Anti-Bullying Week 2017.
The theme for Anti-Bullying Week 2017 is 'All Different – All Equal'. Two topical stories have emerged which together highlight the need to identify and challenge bullying of transgender children. A transgender person, should you be unsure, is a person whose gender is not the same as the gender they were assigned at birth.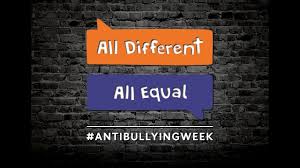 The Church of England yesterday issued guidance to all its schools on dealing with transgender pupils. The guidance –  Valuing All God's Children –  specifically deals with the need to eradicate transphobic bullying. Secondly, a teacher named Joshua Sutcliffe has seemingly approached the press to announce he faces disciplinary action for misgendering a pupil http://www.bbc.co.uk/news/uk-england-oxfordshire-41966554.
The Church of England's guidance advises that children should be able to 'try out the many cloaks of identity' and 'explore the possibilities of who they might be without judgment or derision'. It further explains that 'It is important to teach pupils to understand the appropriate use of gender labels and names for trans people and to explore why deliberately calling someone the gender other than that which they choose to identify as is a form of bullying.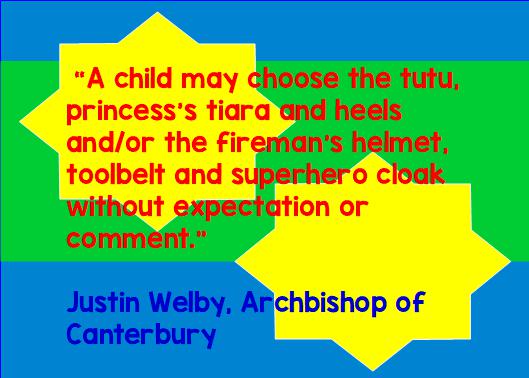 According to the BBC, Joshua Sutcliffe – who is also a pastor at a Christian church – says, 'While the suggestion that gender is fluid conflicts sharply with my Christian beliefs… I have never looked to impose my convictions on others', he said. He said he had apologised to the student, but said he did not consider it 'unreasonable' to call someone a girl 'if they were born a girl'. The school at which he is employed, unsurprisingly, said it would be 'inappropriate to comment.
In the guidance, the archbishop of Canterbury, Justin Welby, warns that homophobic, biphobic and transphobic bullying causes 'profound damage leading to higher levels of mental health disorders, self-harm, depression and suicide'. On the other hand, Joshua Sutcliffe complains that, 'the suggestion that gender is fluid conflicts sharply with my Christian beliefs.'
I'm all for freedom of speech: after all, it is by discussing our views that we can become educated and enlightened. There are some places, however, where it would be quite wrong to express such an opinion – and one of those places is a school. Schools are havens for young people – a place to learn and develop into thoughtful, educated young adults; a welcoming community in which each student can play a meaningful role. A transgender young person should not have to confront any form of prejudice at school.
Gender is largely invented (did you know, for example, that the colour pink was once associated very strongly with masculinity?) and, as far as teaching young people goes, almost totally irrelevant. Why any teacher would consider it appropriate to make a judgement about a young person's preferred pronoun is quite beyond me. Decent teachers know to leave their ego at the classroom door: children's well being comes first.
If you are not transgender, it's hard to understand what it must be like. It's really difficult to imagine how it would feel. However, it's not necessary to completely understand a condition in order to be respectful of it. If someone asks you to use a different pronoun when referring to them, just do it. It won't do you any harm, will it? Remember: we are all the same – and all different.
For more information on Anti-Bullying Week 2017, visit:
https://www.anti-bullyingalliance.org.uk/
and