Professional tuition, Urmston and Stretford

Welcome to the website of the Better Tuition Centre in Urmston.  We are qualified teachers who tutor young people aged 5-16 in maths, science, English and entrance exam/ 11 + preparation.  Our expert tuition takes place in our fabulously equipped independent tuition centre at 1 Crofts Bank Road in the heart of Urmston.  Call Paul Syrett or Christine McLaughlin on 0161 748 3912 or email us at info@bettertuition.co.uk to book your FREE assessment or find our how to book your place on our practice entrance exams or summer school.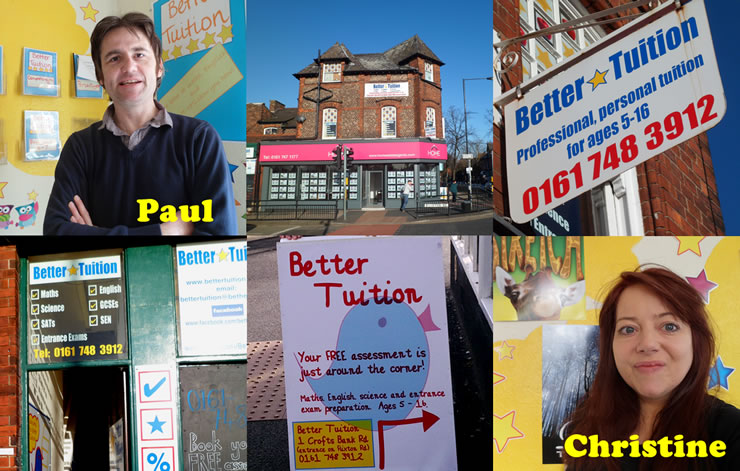 We are founder members of the Association of Professional Tuition Centres, a national network which represents and promotes the highest professional standards in tuition.
Run by Paul Syrett and Christine McLaughlin, the Better Tuition Centre has helped many hundreds of children in Urmston and Stretford achieve their educational goals.  Children love attending lessons at our centre on Urmston's main crossroads and their parents are delighted with the rapid progress that is made.
Subscribe to our feed to keep up with everything that is happening at Urmston's professional tuition centre.
We are the busiest tutors in Urmston and we tutor all ages and abilities, from Year 1 to GCSE.  We can also prepare your child for grammar school entrance exams (formerly 11+) in Trafford and Manchester.

Our friendly team of fully qualified teachers are expert in:
Maths and English from Year 1 to GCSE level
GCSE Science
Reading, writing and spelling boosters
Confidence in maths programmes
Special Educational Needs
Preparation for Entrance Examinations/ 11+  for all Trafford's Grammar Schools

What parents tell us:
"As soon as I walked through the door I knew that this was a place my child could learn happily."
Are you looking for a tutor in Urmston?  We look forward to seeing you at our professionally resourced tuition centre; in the meantime call Paul or Christine on 0161 748 3912 or  email us to book your FREE assessment in maths, science or English.