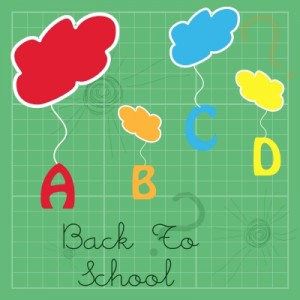 The tears are, of course, more likely to be yours than theirs!  For most Year 7 children the next couple of weeks are full of excitement as they move up to secondary school.  For many parents, it's an anxious time.
This is especially the case if your child is not going to be going to the same school as many of their friends.  In Trafford we have a fairly harsh system whereby some children go off to grammar school, others attend faith schools such as St Antony's and most of the rest of them enter into single sex education at Wellacre or Flixton Girls' (Stretford and Lostock High being the exceptions).  This does mean that many children are separated from their friends at a time of transition.
How can you make the situation easier?  Firstly, you can reassure your child that they will be able to keep in touch with their friends, whichever school they go to.  You can facilitate this by arranging to have their friends round at the weekends. 
Secondly, remember that they are unlikely to be the only Year 7 student who has been separated from their friends.  Speak to your child's form tutor or Head of Year and let them know your concerns.  They can keep a special eye on your child and if they don't make friends quickly (although most of them do), they can give other members of the class a discreet nudge in their direction.
You are probably wondering whether your child will cope with the work in Year 7.  With so many new subjects the homework can really mount up.  Add to this the tiring effects of finding your way around a large, unfamiliar building and getting used to lots of new teachers (who often seem rather severe at first!) and you may find your Year 7 child can get rather stressed.  It is vital to keep on top of this because there is  a pronounced dip in attainment in Year 7.
Make it easier on your child by helping them organise their homework schedule.  They will often have a full week in which to complete individual pieces of homework, so help them spread it out over a few nights. 
Bear in mind, though, that your Year 7 child should be growing more independent, so aim to have them organise their own homework schedule (under your watchful eye) by Christmas or thereabouts.
In every Year 7 class there's always one or two unfortunates who insist on carrying around half their bodyweight in books and PE kit on their back.  These are the children who don't have the organisational skills to work out what they need each day.  They spend half their lessons sifting through mountains of murky bag-stuff, hunting hopefully for a homework sheet that generally turns out to have been annihilated by a forgotten banana.  DON'T LET YOUR CHILD BE THAT CHILD! 
Get them into the habit of emptying their bag each night and checking their planner for books and equipment needed the following day.
Finally, if your child needs a little boost, in confidence, maths science and/ or English, contact Better Tuition to book a FREE assessment and some lessons in our professionally equipped tuition centre.
Image: digitalart / FreeDigitalPhotos.net