It's the final day of Better Tuition's Advent Activity Calendar and we have some festive non-verbal reasoning activity for you.  You will find the answers here.  Try more festive NVR from Better Tuition.
Non-verbal reasoning helps develop problem-solving skills and is particularly useful for students preparing for Trafford's grammar school entrance exams/ 11 plus.
Question one:
Which Christmas gift is the reflection of the gift on the left?

Question two:
The Christmas parcel on the left has been rotated 90 degrees in a clockwise direction.  Which parcel (a-d) shows this?


Question three:
Which Christmas tree is the odd one out?

Question four:
Find the Christmas present (a-d) that goes with the first Christmas present in the same way the two Christmas trees go together.


                                                                                     A                B                       C              D
Question five:
Which is the missing square?

Question six:
Which net could fold up to make the cube shown?

Question seven:
Find the missing code(s).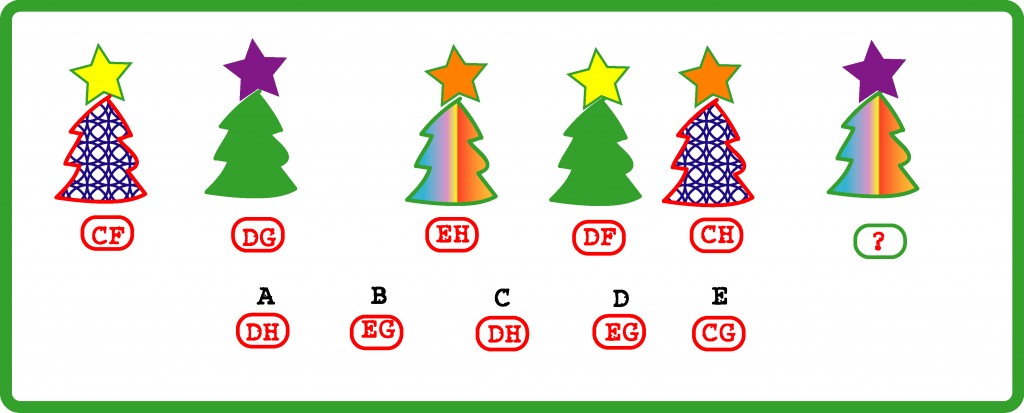 Question eight:
Which Christmas tree (A-E) is most like the Christmas tree on the left?


Teachers, please feel free to print this out and use it with your class. Parents, please feel free to print this out and use it with your child(ren).
Return to our Advent Activity Calendar.
Learn more about non-verbal reasoning.

Does your child need help with entrance exam preparation? Better Tuition is Urmston's independent tuition centre for maths, English, science and entrance exam preparation. We tutor young people aged 5-16. Call us today on 0161 748 3912 to book your FREE assessment.