It's day 4 of our Advent calendar and we have a verbal reasoning challenge for you. At Better Tuition, Urmston, we have been trying to read this weather forecast but each sentence has been shuffled. What's more, an extra word has been added to each sentence! Can you unshuffle the sentences and identify the extra word?
| | | | | | | | |
| --- | --- | --- | --- | --- | --- | --- | --- |
| EXAMPLE | weather | be | the | heat | will | tomorrow | warm |
The shuffled sentence can be rearranged to make the sentence "The weather will be warm tomorrow."
The extra word is 'heat'.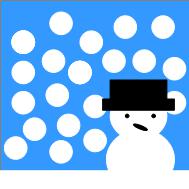 month be soon December will a cold
frost will a there be thick ice
below fall to temperatures freezing yesterday will
warm cold will you your need clothes
of is a snow there possibility balls
will up coldest away north it be
slightly the be south will gone warmer
week only get next it colder will
good conditions be were flying particularly will
sleigh in our for look above Santa's
Scroll down for the solution.
December will be a cold month. Extra word: soon
There will be a thick frost. Extra word: ice
Temperatures will fall to below freezing. Extra word: yesterday
You will need your warm clothes. Extra word: cold
There is a possibility of snow. Extra word: balls
It will be coldest up north. Extra word: away
The south will be slightly warmer. Extra word:gone
Next week it will get colder. Extra word: only
Flying conditions will be particularly good. Extra word: were
Look out for Santa's sleigh above. Extra word: in
Don't forget to come back to our Advent Calendar every day until Christmas Eve for fun, focused numeracy, literacy and verbal reasoning with a Christmas theme for Years 3-6.
If you are thinking about tuition for the new year, why not book a FREE assessment with Better Tuition's expert teachers?  You can book now for January – we'd love to meet you and help your child achieve and succeed in maths, English, science and/ or entrance exams for Trafford's grammar schools.