Practice Entrance Exams at Better Tuition: 2018

Each year from February until September, Better Tuition runs monthly practice entrance examinations to help Year 5 children prepare for Trafford's grammar school entrance exams.  Our papers are tailored to the requirements of the school of your choice, including: Urmston Grammar, Stretford Grammar, Altrincham Grammar School for Boys, Altrincham Grammar School for Girls, Loreto Grammar School, Sale Grammar and St Ambrose College. 
Which Format: CEM-style or GL Assessment-style?
GL Assessment-style examinations are suitable for those Year 5 students planning to sit for Altrincham Grammar School for Boys, St Ambrose College and Loreto Grammar School. These examinations will consist of three of the following papers: maths, English, verbal and non-verbal reasoning, as well as a creative writing task, where relevant.
CEM-style examinations are suitable for those Year 5 students intending to sit for Urmston Grammar, Stretford Grammar, Sale Grammar School and Altrincham Grammar School for Girls.  These will consist of two, 45-minute papers that cover a combination of maths, comprehension, verbal and non-verbal reasoning.
***Please note that there is a possibility that some grammar schools may announce a change of format from GL Assessment to CEM format.  If this is the case, we shall adapt the format of our examinations accordingly.***
We are experts in this area: we have several years of results from each of our papers and, although this is not an exact science, we can compare your child's results with previous scores and make reasonable predictions about their chances of success in the grammar school entrance exams.  We adhere to the highest professional standards; our papers are exclusive to our centre and your child will not have encountered them previously. You can see the high quality of our examination papers by visiting our download store, where you will find some examples, many of which are free of charge.
Practice entrance examinations mainly take place at our Urmston tuition centre [Better Tuition]. However, our July 2018 CEM-style practice examination will take place at another location, due to the huge demand we experience at this time of year. We will confirm the location of our July exam nearer the time.  Our practice entrance exams will be running on the following Sundays in 2018:-
CEM-style Exam Dates
Our CEM-style exams will run at our Urmston tuition centre (except July 15th) from 09.30 am until 11.30 am and from 12.30 – 2.30 pm. on the following Sundays in 2018:
25th February (Introductory)




22nd April




20th May




24th June




15th July




19th August




9th September

(N.B. Due to the imminence of the official CEM entrance examination, parents/ carers will take their child's completed September papers away after the exam, together with full answers. Parents/ carers will then mark their child's exam, allowing more immediate feedback at this crucial time.
GL-style Exam Dates
Dates for our GL-style exams (currently suitable for Altrincham Boys, Loreto and Ambrose) will be announced by early December 2017.
Costs
The

cost of our practice entrance examinations

 is £40. Current customers of Better Tuition, who have attended and paid for a minimum of four lessons at the time of the exam will receive a 12.5%/ £5 discount on each exam. We will issue this as a refund after you have paid for the exam (technology is complicated!).
Refunds for cancellations are, regrettably, not available.
Booking
If you want to book a practice entrance exam with us, you can do so online by clicking the button below. N.B. You need to know the date of the examination you wish to book. Paypal handles payment, but please note you do not need a Paypal account to pay; you can use any bank card. Please do not delay in booking as places can fill up quickly.
Papers will be marked and returned to you within a maximum of five working days.
"Thank you so much – the whole team are so reassuring and they really know their stuff."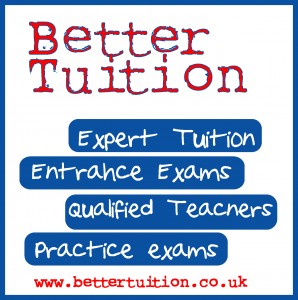 The papers are prepared and marked by our entrance exam experts and will be posted back to you within a week.  If you prefer to pick the papers up from our Urmston tuition centre, please let us know.
About Better Tuition
Better Tuition provides professional tuition by qualified and experienced teachers in our tuition centre in Urmston.  We offer an unbeatable range of resources to help your child succeed, including books, worksheets, bespoke computer software and multi-sensory learning aids, along with the expert input of our entrance exams experts.  Better Tuition is situated on Urmston's main crossroads, a short car journey from the Trafford Centre.  Learn more about our methods.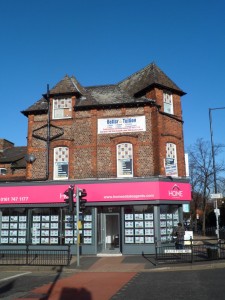 How do practice entrance exams help?
Practice entrance exams at the Better Tuition Centre are designed to give your child experience in sitting an extended test for grammar school entry in Trafford.
Our practice entrance exams are tailored to your school of choice (for information on Trafford's grammar schools' differing requirements, visit this page) and are exclusive to Better Tuition.
Our practice entrance exams are normally marked and available to pick up within five days.
Practice entrance exams are an excellent way to identify the areas your child still needs to cover.  Call us on 0161 748 3912 or email to book your place today.
Download our FREE NVR and VR practice papers here.
We aim to replicate the 'real' entrance exams as closely as possible and our exams will identify the key areas your child needs to cover over the coming weeks.
Summer School at Better Tuition
Better Tuition's Summer School is a great way to keep up your entrance exam preparation over the long summer break.  You can book between one and four sessions per week.  Places are limited so please contact us to book as soon as possible.

Image: criminalatt / FreeDigitalPhotos.net